CES 2023 was a great success this year, with attendance exceeding 115,000 visitors. While these are not pre-COVID levels (up to 170,000), the outbreak was well behind us for those few days and the participants were visibly happy to be there.
While last year the main halls looked like ghost areas with booths abandoned at the last minute, this year the crowd was invading the aisles to the delight of the exhibitors.
Not to mention the start-up zones, which had partially escaped desertion last year, but were flooded by visitors to the point that it was difficult to get a place in the booths.
It was a great year also for Augmented Reality (AR) and Virtual Reality (VR) with new products, mature software offerings, and original and innovative solutions.
I am not going to dwell here on products that have already been highlighted many times by various articles published on CES, but rather focus on some start-ups across the world which show the trends.
Small review of AR gems at CES.
Connected glasses, more models (but never enough!)
As explained in the preamble, the ads were mainly focused on HTC, TCL, Lumus, Magic Leap 2 or the latest RealWear product, and widely relayed in the press. However, I could not completely avoid the topic, which remains my favourite sector.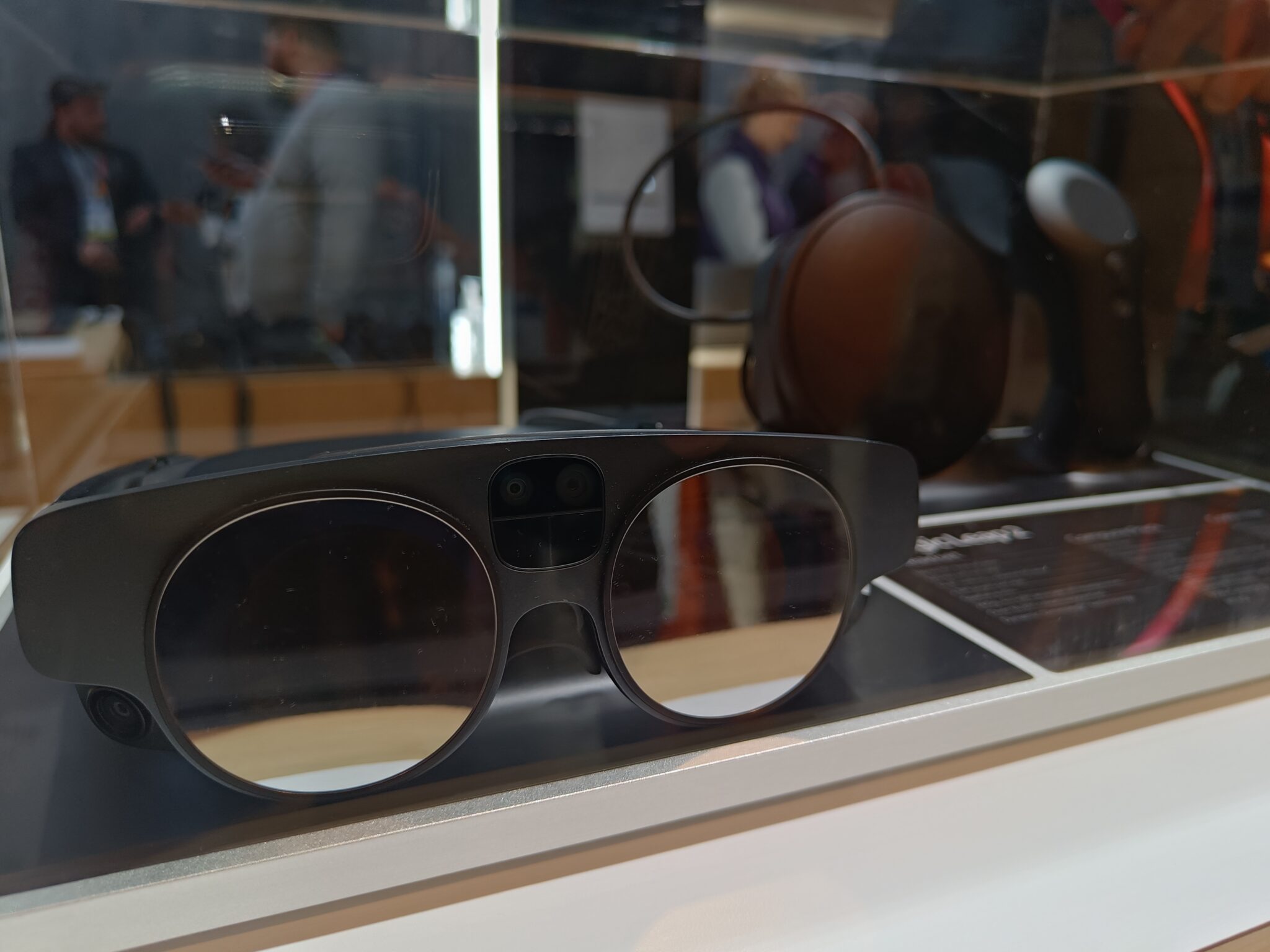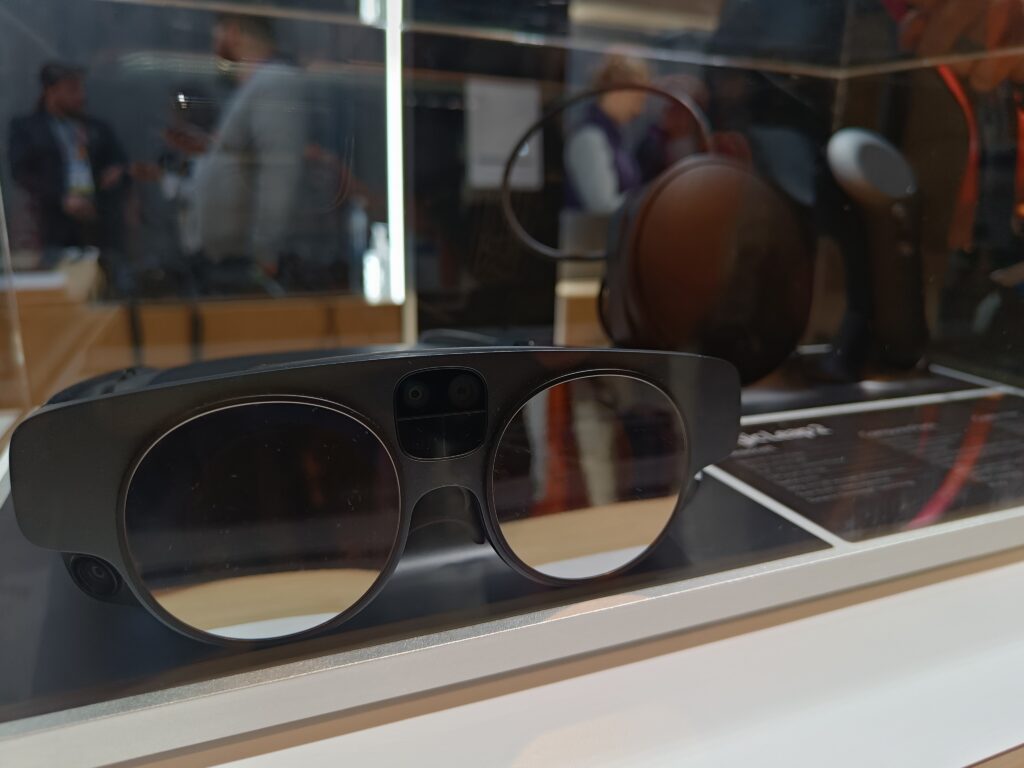 There was something for everyone, whether it was Augmented Reality/AR glasses (with transparent lenses, like the Magic Leap or TCL glasses) or Extended Reality/XR glasses (with the use of video-see-through feedback like HTC or Lynx).
Lynx (France) present on the Ultraleap stand with the now marketed version of their glasses, had also made the trip to Vegas thanks to this new partnership, announced ahead of the show.
In the field of monocular products, Vuzix occupied a large stand where the product ranges were demonstrated, including the Shield in its final version.
Finally, RealWear, although not having a stand, took advantage of the show to demonstrate the Navigator 520 with a thermal camera and a 20% larger screen for a price around $2,700.
A few more vertical products could also be discovered in the aisles of start-ups, such as Aegis Rider (Switzerland), which has been developing its motorcycle helmet solution for a few years now.
Lots of buzz in the aisles about the potential launch of Apple glasses in 2023, the giant being once again conspicuously absent from CES.
At the same time, the offering for AR glasses components (optics, lenses, etc.) has greatly expanded and this is a very good sign. Besides, I probably had the same exhibitors' list than major brands looking for opportunities, and I was often on the same stands as the representatives of Google or Meta!
More intuitive external user interface controllers 
Many solutions now offer the possibility of more intuitive control of VR/AR headsets through external accessories connected via Bluetooth. 
In the field of alternative control to «headtracking», WiseAR (France) continues its momentum and demonstrated a more compact version of its headphones, allowing to drive interfaces of VR/AR headsets, using eyes and jaw. Ultimately their goal remains to be able to perform their tasks using brain activity.
Coolso (Taiwan) have made the bet of the gesture control with a software solution adapted for smartwatch/bracelets, using the IMU of these products; they provide an SDK that analyses muscle vibrations and signals through 10 predetermined gestures.
Port 6 (Finland) also plays the game of gesture control by using the accelerometer and gyroscope to measure vibrations. This works without calibration and with a fast response time (100ms). Port 6 sells the SDK for integration into hardware systems.
Available on the Android app store for free, it works with the Meta Quest Pro.
Sensory accessories, a growing market
The future of XR is strongly linked to sensory solutions, whether they are haptic, acoustic, or even odoriferous; they are important components in order to offer customers more successful proposals.
The most promising market is probably haptic jackets and gloves, where many products were presented, some even being already marketed.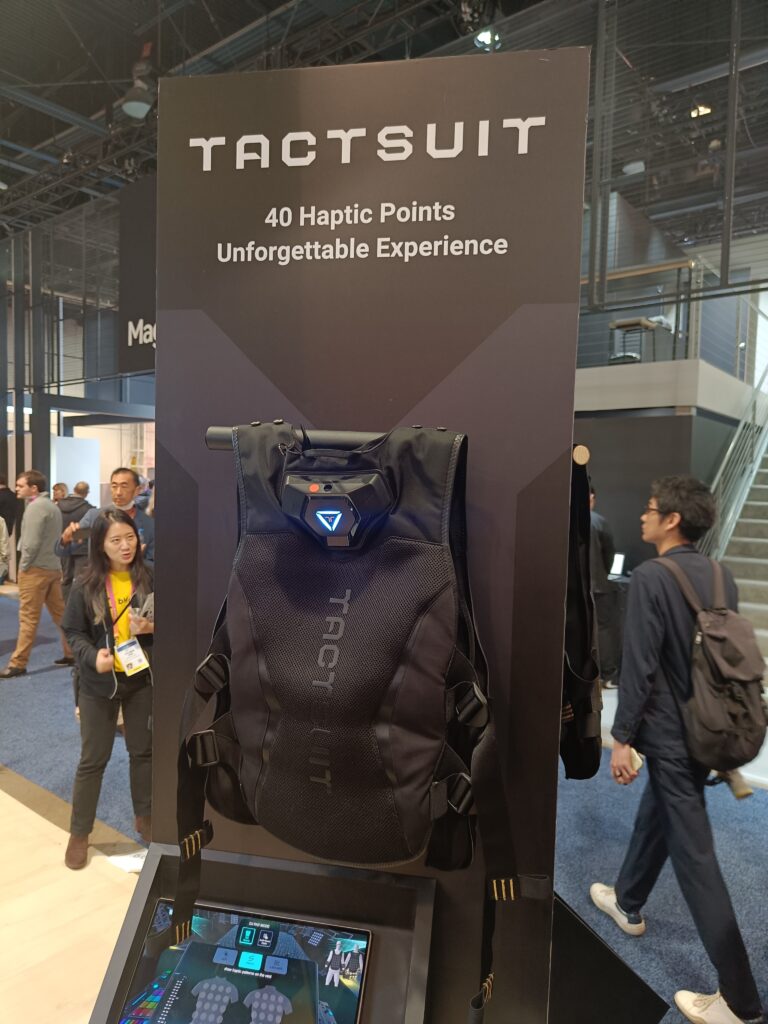 Actronika (France) offered a more refined and better finished version of their jacket than at AWE, now really aesthetic and wearable.
HaptX (USA) was also present with a wired version of their vest, but technically advanced; miniaturization/portability being the next major step of the project.
The Korean Bhaptics offered gloves and jacket in demonstration, with effective results.
Even OWO (Spain) had come all the way to Las Vegas to showcase a haptic tee-shirt, which works on a solution of electrical impulses (not vibrations), with a product marketed at 499 euros for gamers (still at 349 euros in pre-order). 
Both medical and accessibility tools are growing
It is well known that augmented reality solutions have enormous potential in the medical field, whether in training, assistance or even in improving certain cognitive abilities.
Some companies have been working on this for several years and are being rewarded for their efforts while others are arriving with promising methods.
Abys Medical (France), present on CES for the second year in a row, started the show with excellent news for its entry into the American market: FDA certification. Its surgical assistance solution is now deployable in the United States; next step the medical CE standard?!
Other companies are focusing on disabilities and providing technology to help people with certain pathologies; for example, Xander (USA) has developed a solution that transcribes the conversation in real time in order to help the hearing impaired. The system is totally autonomous, without internet connection. They use the Vuzix Blade glasses for their weight and shape factor and have ported their software solution. The launch is scheduled for spring 2023 in the United States and will support English and Spanish.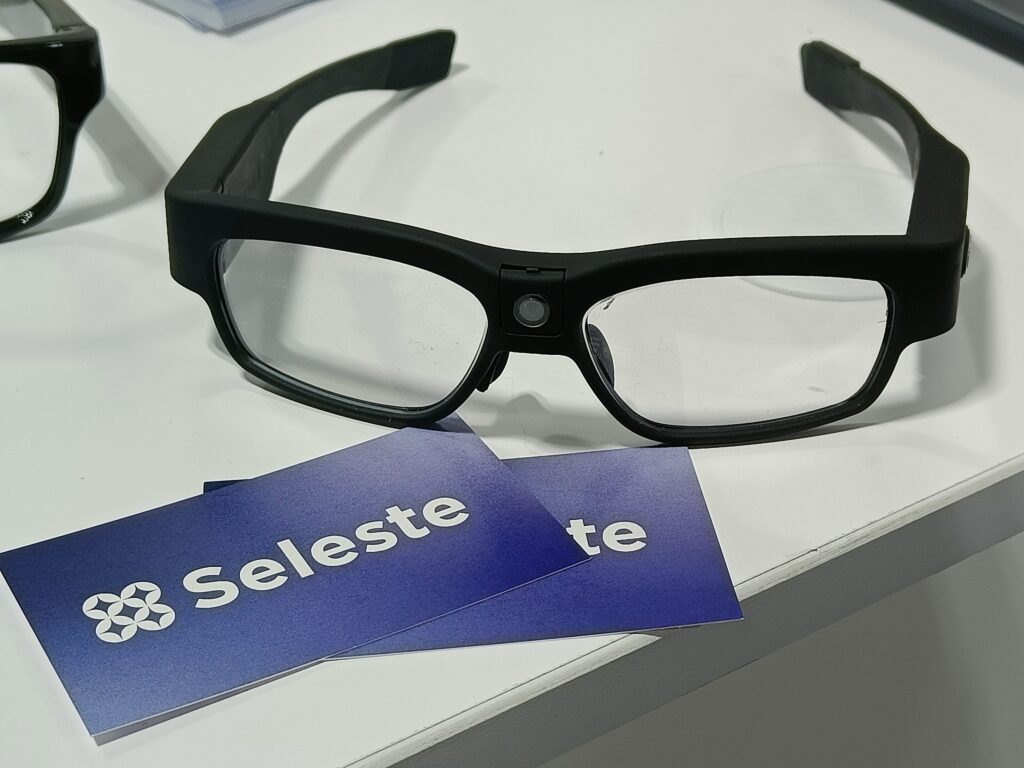 Seleste (Canada) wants to address the visually impaired population with a solution that is still at a prototype stage, but for which it develops its own glasses with camera, microphones and speakers (but without a screen); the application is managed by the mobile phone.
The ambition of Rebokeh Vision (USA) is also to tackle visual impairment problems, for the time being on mobile phones; the idea is to provide as many people as possible an easily accessible AR solution (the app is downloadable from the Android App Store) and inexpensive (it is currently free); it offers tools to play on contrasts/size/colours, and thus treat the different pathologies.
Beautiful projects with human-impacting objectives, which will be launched this year.
This CES show was as always gigantic and I could not mention all the companies that have demonstrated the breadth of their skills in AR, even VR or XR (which covers both). Companies that, like ARbeon, create AR platforms for social networks, like Arpedia that develop educational books in AR for children (with a giraffe-shaped camera!) or even like Graffiti that develop sushi chef games (itamae) in AR. But you will understand through all the articles you can read on CES that it was definitely an excellent vintage for AR; and we hope so, not as good as in 2024!