Income from International Tourism reached 602 billon US dollars in 2021, in a nutshell,  that's 4% more than in 2020 and more than 900 million tourists who travelled abroad in 2020. (UNTWO, January 2023).
The vast return of traveller after a few complicated years has given a boost to the travel professionals.
Faced with this revival, which is set to last and like many other positive tendencies since the beginning of 2023, new challenges have been emerging and with them new opportunities.
Attracting tourists who are increasingly demanding and are in need of "experiences".
Adapting to the new ultra connected generation who have all grown up with the new technology and is now part of their daily life.
But also trying to change the habits of local visitors by finding ways to keep them loyal and make them return regularly.
Immersive technologies, and particularly Augmented Reality solutions, are excellent tools to deal with these issues, and have already proven successful in sometimes complex environments.
Augmented Reality enhances the visitors' experience by making itineraries more fun and original, additionally giving companies in the tourism sector a multitude of possibilities to enhance their offers.
 'Augmented ' City Tours
Newly arrived visitors to a new city may quickly be on the lookout for services to help them navigate the unfamiliar urban environment.
Even if the number of tourists in an average city does not reach the millions of visitors like Paris, Dubai, Amsterdam or Madrid (Most visited cities in the world in 2022 (Euromonitor, janvier 2023), it is all the more interesting to consider the differentiating technologies that can attract the eventual tourists.
The uses can be both remarkably simple and very useful: information on the resort, getting around the site, the translation of information into different languages…. In augmented reality these tools can take on a whole new dimension and be much more effective than in 2D.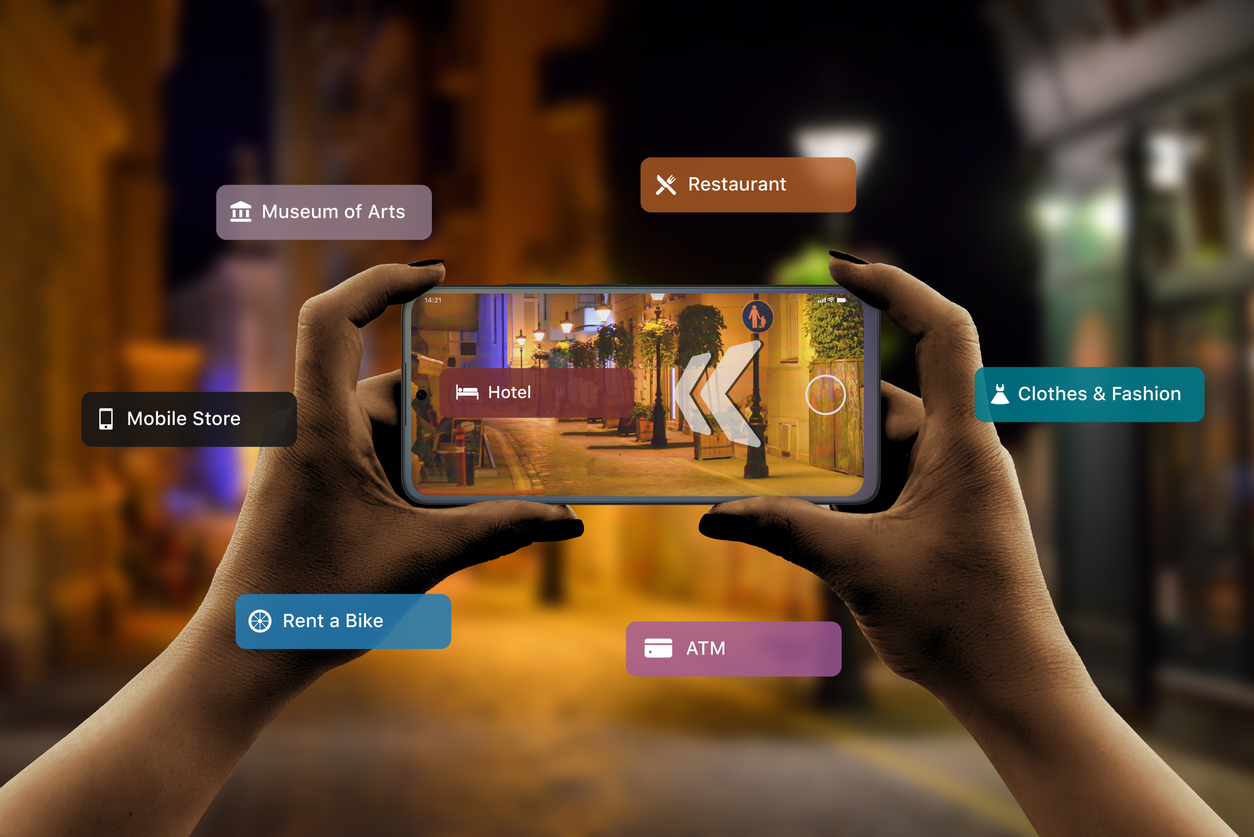 These solutions can also be tools to promote cultural places of interest with attractive information.  The applications can be personalised with the name of the city and visitors can simply use their own mobile phones to access it.
WebAR solutions (using the phone's browser) are generally popular because visitors do not have to download applications.  However, some very good activities involve applications that can really make a difference and offer broader possibilities.
We can also consider City Visits and Virtual Guided Tours, by enhancing bus or train tours with AR glasses, or itineraries to wander around the city in an autonomous and entertaining way.
These are often inexpensive solutions, which, when the traveller has been informed, can be a lever and a differentiator for cities whose challenge is to attract more visitors in the long term.
Tourist Sites, an immense playground for Augmented Reality.
Time travel, edutainment, gamification… there are so many opportunities to reinvent, for example, a visit to archaeological sites, monuments or historical sites.
The most common problematic cases are often related to:
An unattractive place, set back from the main routes, or too small,
A site which is badly damaged or the majority of the monument, buildings and works of art have disappeared,
A place steeped in history, but which requires a visual accompaniment to grasp what it would have been like in the past.
In all these cases augmented reality solutions, when used with digital content, can intensify what already exists and be superimposed onto the remains, or even recreate entire sections of the historical elements, thus recreating an environment leading to a memorable tourist visit.
This journey will be perfectly integrated into a "storytelling" approach: an augmented reality visitor experience will "tell a story" and take the visitor step by step on a journey that is both entertaining and educative.
Since the content can be modified at will, it is possible to create a pool of opportunities to keep visitors coming back with new experiences.
By either using your own mobile phone or tablets/glasses rented for the occasion, the proposed service can afford to be paid for according to the value perceived by the visitor.
Specialised companies, often founded by experts from the world of tourism, art or heritage, offer ready-made experiences to tourism professionals, whether they be travel agencies, town halls or tourist offices.
Subtitling and Surtitling to support venues
Although they are an excellent way of immersing yourself in local culture and heritage, some venues remain difficult for tourists to access because of the language barrier. The challenge is to convince foreign visitors from all nationalities to come and see shows in their venues.
However, there are already solutions for real-time subtitling/super-titling through connected glasses. Used in theatres for live performances and some operas, they allow you to choose your language and position the subtitles in front of your field of vision.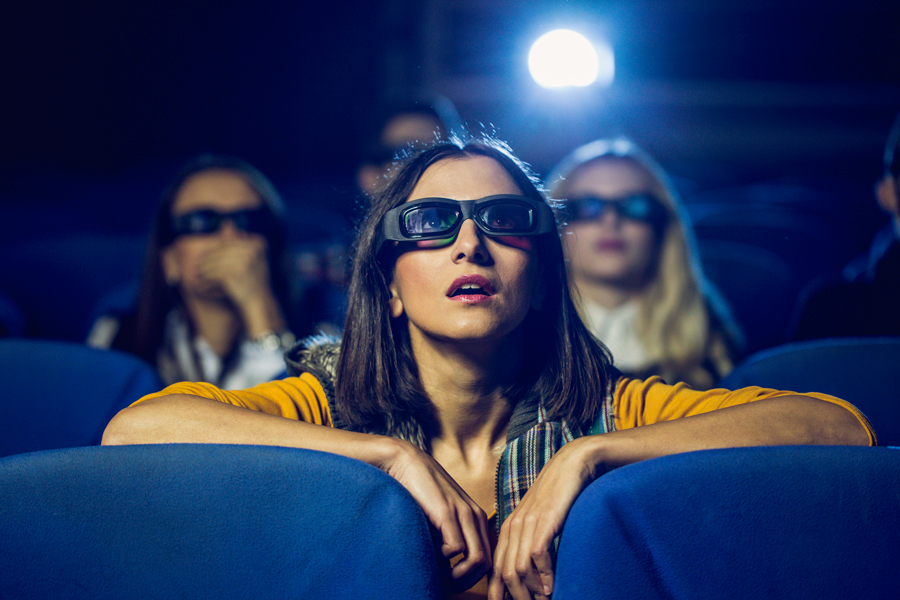 Technically, they often require a prompter and always a WIFI connection, but overall they are relatively easy to deploy, especially given the opportunity in terms of additional audience.
These services can also be offered to the hard of hearing, and the National Theatre in London has been using these solutions for some years now.
Augmented Reality has the potential to solve these problems in theatres around the world, hence attracting populations that are currently not being targeted.
Immersive museums
It seems that in the world of tourism and new forms of travel, the demand for culture by tourists is stronger than ever and museums have a decisive role to play.
While the large museums are slowly returning to pre-Covid attendance levels (WhyNow, mars 2023), the smaller institutions and rural museums are still in the recovery phase.
This transition is causing many museums to rethink their approach, and augmented reality solutions can bring added value to the visitor's experience.
Immersive augmented reality experiences can be created that are compelling and aesthetically pleasing, for example at the Cleveland Museum of Art or the Musée d'Histoires Naturelles in Paris.  It delights even the most reluctant.  However we mustn't forget what is pragmatically the most important factor to consider:  the expected return on investment.
The proof is in the long-term success of experiments that have been carried out to overcome certain problems:
Lack of attendance
Bringing more younger people through the doors
The need to build loyalty
The project will be better designed if the problem has already been identified and the solution put in place to solve it. Afterwards it is extremely important to establish statistics, to check the validity of the concept and to measure the ROI: there is always time to adjust the project to meet the objectives!
From this point on, the technology is mature and ready to fulfil the specifications to produce beautiful experiences, based on storytelling and 3D content for example:
Keeping the exhibition simple and minimise displays by digitalising them.
Communicating playful information about the works and their creator, superimposed on the environment.
Showing works that are not available because they are being restored, or that complement the exhibition or the theme.
Recreating traffic in alcoves shunned by the public.
However, augmented reality can also address the challenges of loyalty by giving, for example, the possibility of "augmented" books, images or souvenirs purchased in the shop (via a QR code or via the image). This creates a customised and evolving tool for communicating information about the museum, forthcoming exhibitions or providing exclusive offers for an inauguration or special celebrations.By superimposing digital information onto the real world, it offers endless opportunities to enhance people's experience, with scalable content that can be read from a mobile phone.
Hotels and restaurants, visualisation and marketing in AR
The hotel and restaurant industry has also been strongly impacted by changes in tourism.
And here again, some recent innovations in augmented reality solutions can entice visitors to visit.
Visiting the Augmented Reality hotel like the Sofitel Singapore, by enjoying artistic experiences in your own room or through your window like at the Downtown Grand in Las Vegas, are easy to set up.
Restaurants have not been left out with the now famous augmented reality projections on the table for original and entertaining meals. Let's not forget about the economic (and ecological?) interest of the use of digital menus which allow people to visualize the dishes directly in 3D.
Augmented reality marketing operations are now also offering simple ways to highlight offers from the hotel and restaurant world, at the same time modernising its image.
And even when you can't travel?
190 million Europeans and 27% of the American population have never been abroad (European Data Journalism & Pew Research).  There are many reasons for this: financial, age, illness or disability, anxiety about leaving, lack of time, ecology,  so on and so forth.
Here again, immersive technologies can make a difference.
In this respect, Virtual Reality probably offers the best service.
This technology can recreate whole new immersive worlds.  It can offer people who wish to travel through 360° videos, worlds recreated in VR and sometimes even interactive ones.
It makes it possible to visit sites that have disappeared or distant destinations that are inaccessible for some people "as if you were there". The addition of audio or even olfactory systems can make the experience even more realistic.
The need has been so well identified that specialised companies have been created and offer their services to individuals, but also to hospitals for their patients, and to retirement homes for the elderly. Beautiful solutions for people who often dream of going elsewhere but for various reasons, can't.
Here at Reaspe Consulting we can help you, so if you are interested in any of these topics and would like more information on existing solutions, please contact us – contact@reapse-consulting.com